I didn't really think much about what it would be like to be at the vet during Covid-19 because I don't go to the vet all that often. But July 21st I found out what it would be like because I had to rush my cat Elfin to the vet because he could not pee. Elfin has had past Urinary problems in 2017 when he was blocked with crystals. Back then he had spent a week in the hospital on a Catheter. It cost me almost $2000, a small fortune back then so I knew this too was going to be expensive.
The first thing I found out was my vet now had very limited hours. They don't make appointments, it's first come, first served. So when I called they told me you better hurry, there are already 5 people waiting and the vet is only here for a few hours so if you want your cat to be seen you need to be in line soon.
I made a sandwich, grabbed my ipad and Elfin and drove over there carefully with a screaming cat in the car. Once there getting through on the phones proved to be very difficult and after calling over and over again I got through and was put on hold for another 15 minutes. But we got a place in line so I felt relieved. The other alternative would have cost thousands more at the VCA Pet Hospital.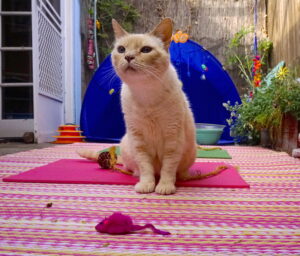 We waited two hours in the car. Another first. But Elfin was able to sleep at least and there were no other animals like in the past when he had to sit next to huge scary dogs. They finally called me on the phone to bring him to the door. No, I was not allowed inside for the appointment, even with a mask. The Doctor would call me on the phone. WTH?? This was going to be very challenging. I met them at the door and handed Elfin to a vet tech.
The doctor called me a very LONG half hour later. He wanted permission to put in a Catheter which I agreed to. After another half hour he called back, unsuccessful. Elfin would need to be sedated to put the Catheter in and spend the night. I sadly said yes. The vet told me later it took him 45 minutes to put it in. He felt that Elfin had a stricture in his penis from scar damage and this was part of the problem. His bladder was full of blood from not peeing.
This vet is so great and I totally trust him. He went beyond duty in 2017 when Elfin was there. He monitored him while at home on his phone. One night he saw him thrashing around at 3am and thought he was in serious trouble. So he got dressed and drove to the office to make sure he was ok. That's the kind of Vet he is, so I knew Elfin was in good hands.
Now his wife, who runs the front desk is another story. She wears 1950's hats surrounded by flowers. A different one every day. So she looks like someone who would be fun, but fun she is NOT! Her people skills were low on a 1-10 scale. Apparently because of the stress of Covid she was even worse. Maybe a 2? And she was the one answering the phones. YIKES. She was incredibly rude to me, short with me, bitchy and constantly put me on hold. The only time she was nice to me was when she wanted money. Then she called me Sweetie. She made an incredibly difficult situation far more stressful.
Over the next few days the pattern would be the same. It would take me numerous tries to get through on the phone. Then I would be put on hold for long periods of time. I would then be told curtly someone will call you back. Then many hours later I would get an update.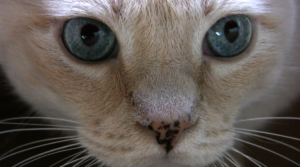 His blood work looked great and he had no crystals. His teeth were terrible. But I already knew that and had been saving up to take him in. Which is why I had the money to pay for this current stay. By day 3 his urine was clear but his Vet wanted to keep him one additional day. His one day off was the next day and he didn't want to chance taking out that Catheter too soon because it was so difficult to get in.
When Elfin was there for a week in 2017, I visited once to twice a day. I hand fed him and even brought him my dirty t-shirts so he would be able to have my scent. This time I was not allowed to visit and so Elfin refused to eat for the first few days. He would eat very small amounts from the nice vet tech's hand on the 3rd day but they were worried he was not eating.
On the 4th day they said he could go home. I was told to meet the wife at the door to get meds and pay. The total cost was close to $1400. OUCH! She handed me a bag of meds and looked annoyed when I asked questions. Elfin and I limped away exhausted from the whole ordeal.
The cat was a mess. Needy and so upset. I was too. After a week of this, it was taking its toll. I didn't know what to expect but I knew if he didn't pee on his own we would be looking at the PU surgery and I sure didn't want him to go through that. Those first 4 days were tough. He was making like 20 trips to the litter box over a few hours and only going a tiny bit.
I had been in contact with lots of our friends on social during the whole ordeal. They were my lifeline. Many had recommended products and told me similar stories about their own cats. One friend explained to me to be patient. Elfin was most likely quite swollen from the catheter. Another two recommended products that they had used when their cats had gone through something similar.
I started him on UTI and I had great hopes for it. The following day I saw blood and my red flags went up. But I think what had happened is he passed something for after that he seemed better. Then I noticed that he was only making one trip to the box. And there was a normal amount of pee!!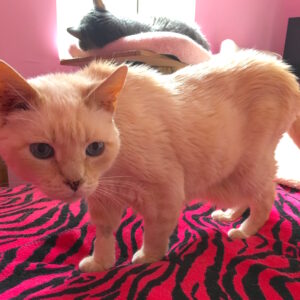 Over the next few days I could clearly see he was doing better. I slowly introduced the other furballs to him again. He had been isolated in my bedroom. He was given house access again. Then he got cone breaks where I could watch him. As long as he didn't lick his penis (a direct quote from his vet.) He could keep the cone of shame off.
Now a month later things are almost back to normal. I watch Elfin like a hawk especially when he is in a litter box. I am so thankful he is better!!
These are the products we use. Elfin is on a strict Urinary Diet.
PetAlive Natural Homeopathic UTI-Free Granules Pet Medicine
https://amzn.to/31Czl3x
Animal Essential APAWTHECARY Tinkle Tonic (Urinary Tract) https://amzn.to/2Qv0oXY
Pioneer Pet Raindrop Fountain, Pet Drinking Fountains
https://amzn.to/3hFtKPd
Royal Canin Urinary S/O Wet Food
https://www.chewy.com/royal-canin-veterinary-diet-urinary/dp/35160
https://www.chewy.com/royal-canin-veterinary-diet-urinary/dp/35159
Royal Canin Treats
https://www.chewy.com/royal-canin-veterinary-diet-urinary/dp/128010
Emerald Pet Feline Health Urinary Tract Support Grain-Free Cat Treats
https://www.chewy.com/emerald-pet-feline-health-urinary/dp/178288
Purina Pro Plan Veterinary Diets Urinary Health Cat Treats
https://www.chewy.com/purina-pro-plan-veterinary-diets/dp/263511
Watch the video about this experience.