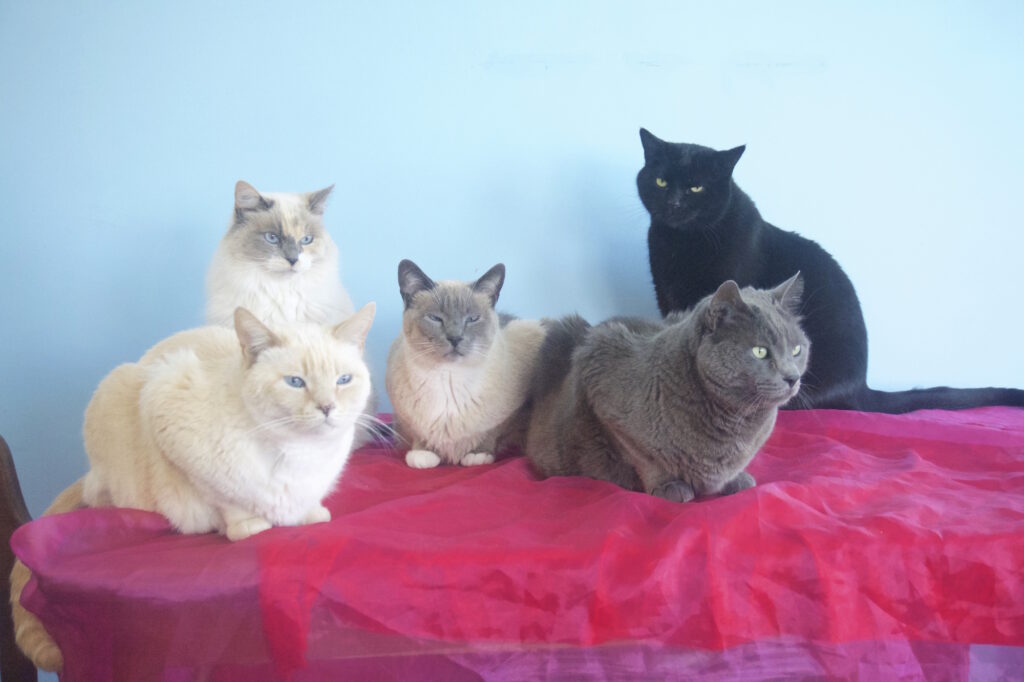 Furball Fables was created by human, Chase Holiday to tell stories about her magical cats. She adopted Merlin, Fairy, Elfin and Yogi in 2007, after her beloved siamese siblings, Elvis and Tink passed at age 21 and 22. She rescued black cats Buddha and his two brothers as kittens in 2010 from her dear friend who was about to lose his apartment. Holiday posted the first Furball Fables video to find homes for the 3 black kittens and the youtube channel Furball Fables was born. Soon after a neighbor adopted brothers Lucky and Ziggy. The Furball cats insisted on keeping Buddha. We asked viewers and our new friends what we should do. Of course Buddha stayed and changed our lives forever!
Furball Fables, has gone on to be a popular Youtube channel with cat people worldwide. With over 200 plus videos, the channel features stories from the cats purrspective. In the early days, Holiday realized her love for making "holiday videos" with the Furballs. In doing so she created many holiday traditions and the videos are shared every year. Videos like the New Years Resolutions series, That's What Cat Moms Do, Cats vs Elf on the Shelf or Careers For Cat Purrfessionals continue to find new audiences every year. Furball Fables was also a finalist in The Friskies Award and has been featured in numerous Cat Video Festivals. Their videos have been shared on many big websites including The Huffington Post, Buzzfeed, Bored Panda, I Can Has Cheezburger and many more.
In 2019 Holiday decided to take a break from youtube to rethink the channel. In the fall she will launch the revamped channel and The Furball Fables Cat Show, which she describes as "TV for those that Worship Cats". The show will have an ongoing story lines about the lives of trying to make it in the crowded world of Cat Videos. It will feature special guest's, DIY, Fun Products, event coverage and much more!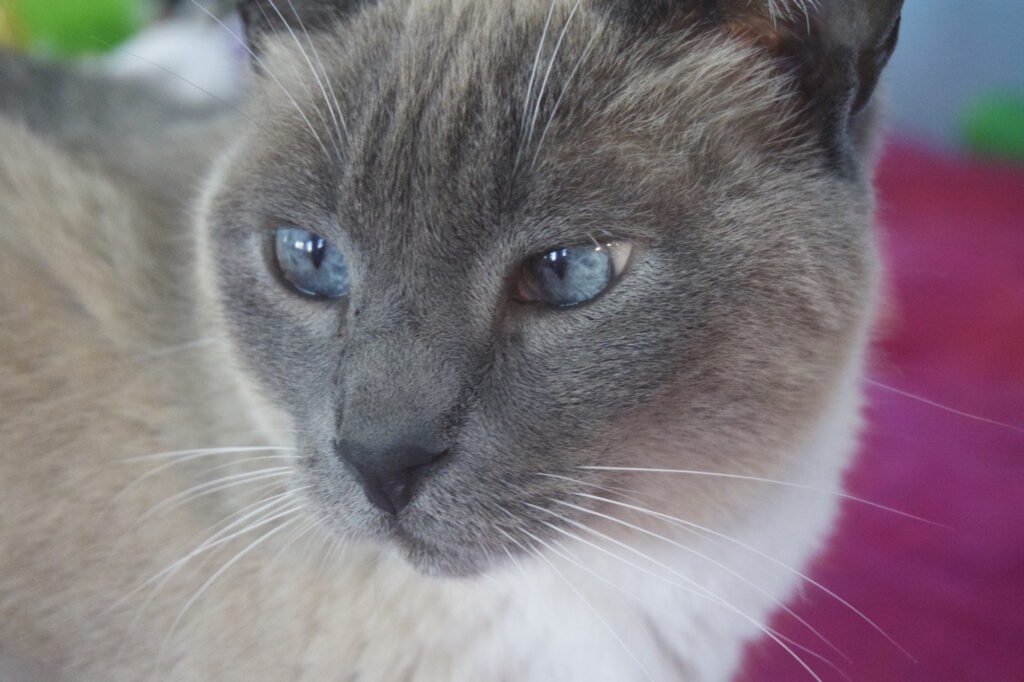 Merlin Sage: Merlin is a Blue Point Siamese, he is also an Applehead and has snowshoe markings. He is top cat at the Furball house and keeps everyone in line with his magical ways. He is extremely sensitive but also very funny with a strong sense of humor and crazy antics Merlin is also very vocal. If he wants something, he will talk and talk and talk until he gets what he wants! He was rescued from a shelter in San Diego California by the Southern California Siamese Rescue with his two litter mates Elfin and Yogi at one month old. Nick names – Mer, MerMer, Big Boy, Goofball.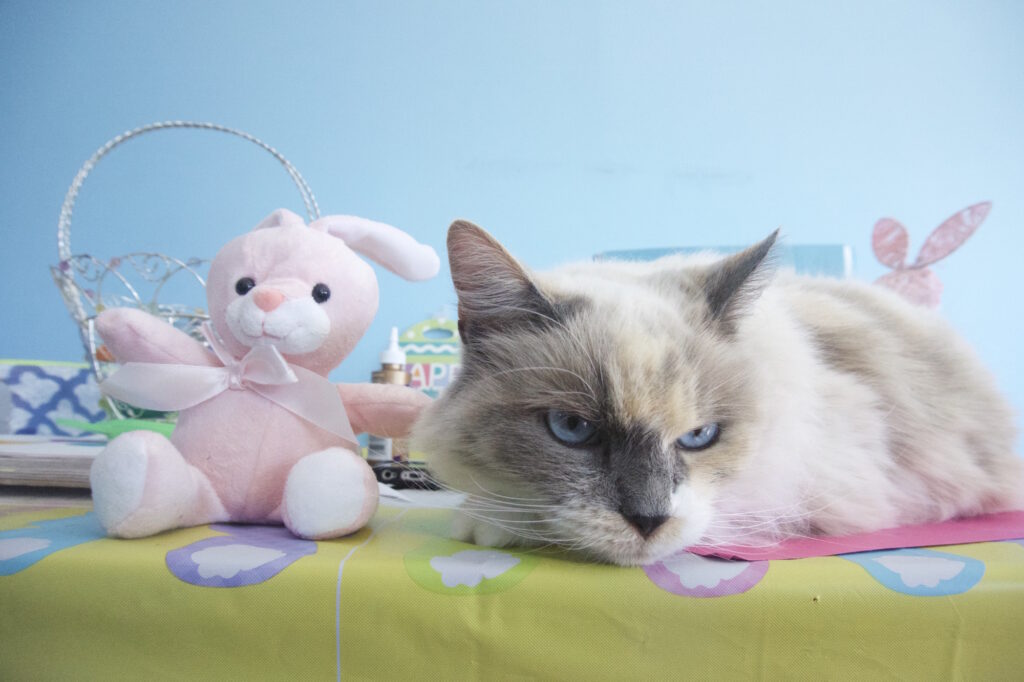 Fairy Princess: Fairy is a Ragdoll Siamese mix (of some kind) and is the only girl cat among the Furballs. She is the smallest cat at 8 pounds yet she is the bravest and the most friendly. She is not scared of anything including Yogi! She fell in love with Merlin right away while still being fostered in San Diego and they have been a couple ever since! Fairy loves to run and climb anything! She plays Chase with Elfin every morning (when Yogi is sleeping). She also follows the human around begging to sit in a lap and be petted! Nick names – Baby girl, Sweetheart.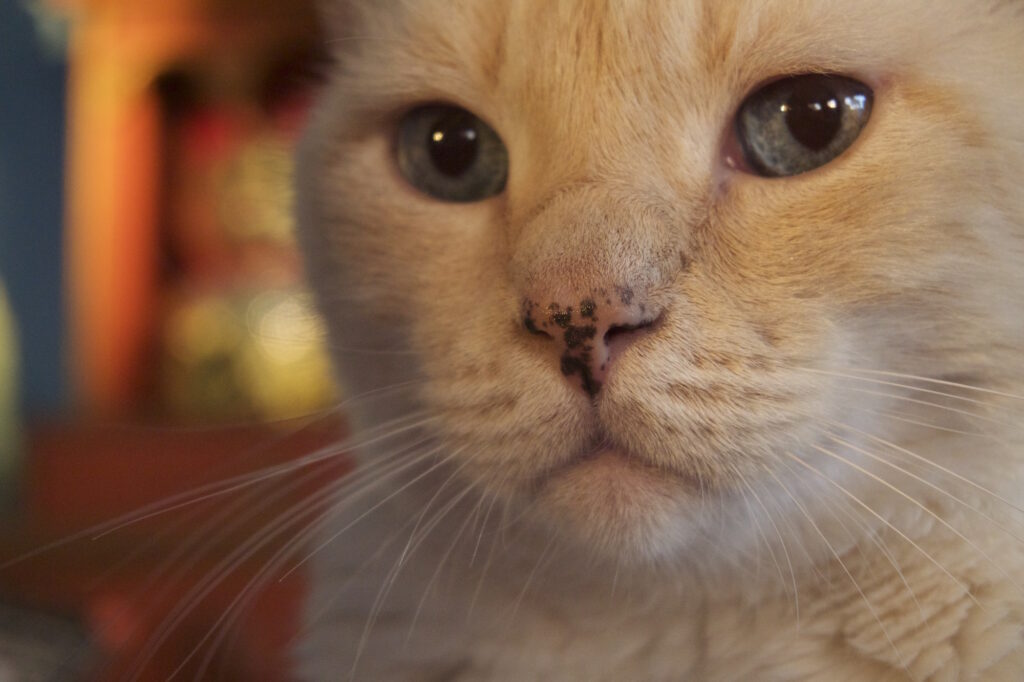 Elfin Anapol: One of the 3 brothers (Merlin and Yogi) he is a red point Siamese with his big blue eyes, a freckled nose and movie star good looks. Elfin had a purrsonality change after spending 7 days at the vet hospital for a urinary problem. Once shy and scared of his own shadow, he left the animal hospital a different cat. He became brave, friendly, kookier than ever, weird, never sleeps, watches everything, interested in everything, plots and and is the house spy. He loves to play by himself in the morning when Yogi is sleeping. Yogi thinks it's fun to pick on Elfin and there is a lot policing in the house. Elfin's favorite pastime is to play with his wand toy. He plays with it, chews it and eventually pulls it out and drags it through the house howling! Nick names, Elfie, Adorable Scaredy Cat, Weirdo.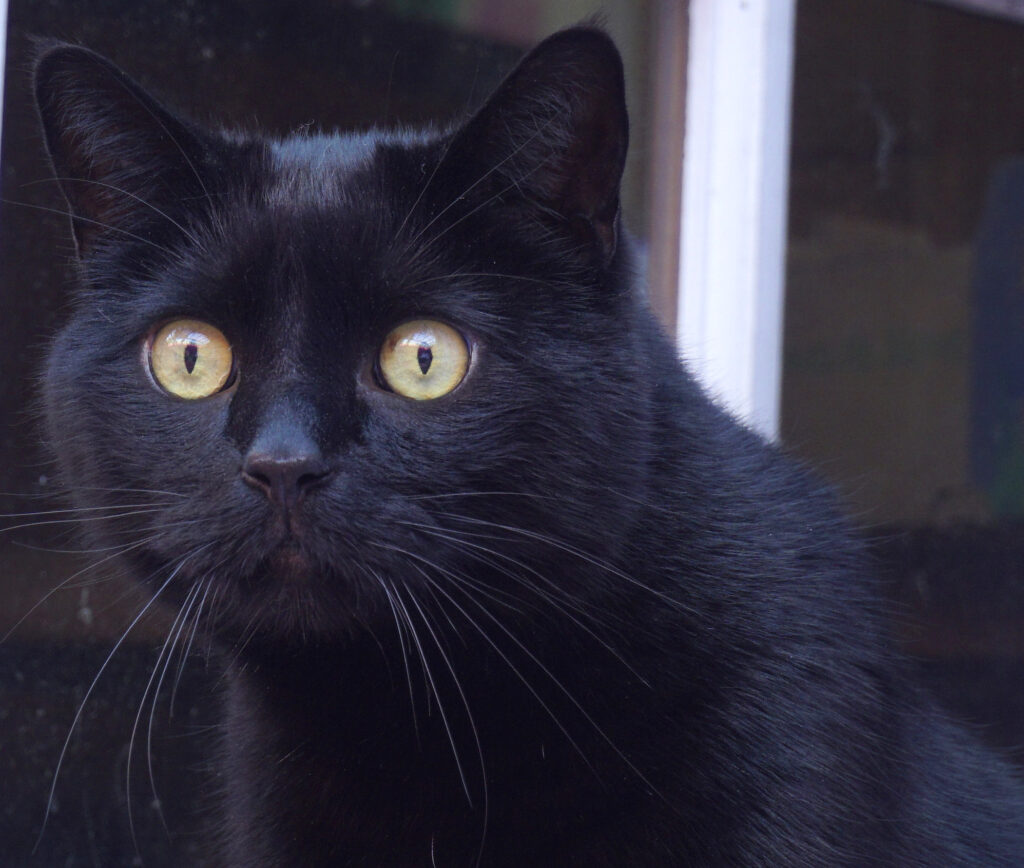 Prince Buddha: Buddha is the youngest Furball. His Mom, Brownie is a beautiful chocolate seal point Siamese and his dad was a big black feral. Buddha and his 2 brothers, Lucky and Ziggy were rescued from an old friend of the humans, who had 24 hours to get rid of the 3 kittens or lose his home. It's a long story with a happy ending! (Read all about it in the book, Black Cats Tell All.) Buddha is a little shy, very sweet in nature, and got his name from his calm nature. He loves to play wild cat games with Yogi. His favorite past time is bird and lizard watching. (Yes he has caught a lizard or two) He also worships the laser toy and would do anything to catch the red dot. Thanks to Buddha, Furball Fables has learned to love Black Cats. We have taken up the cause to promote that Black Cats are wonderful cats too and not unlucky and make wonderful pets. Nick names, baby boy, Bud.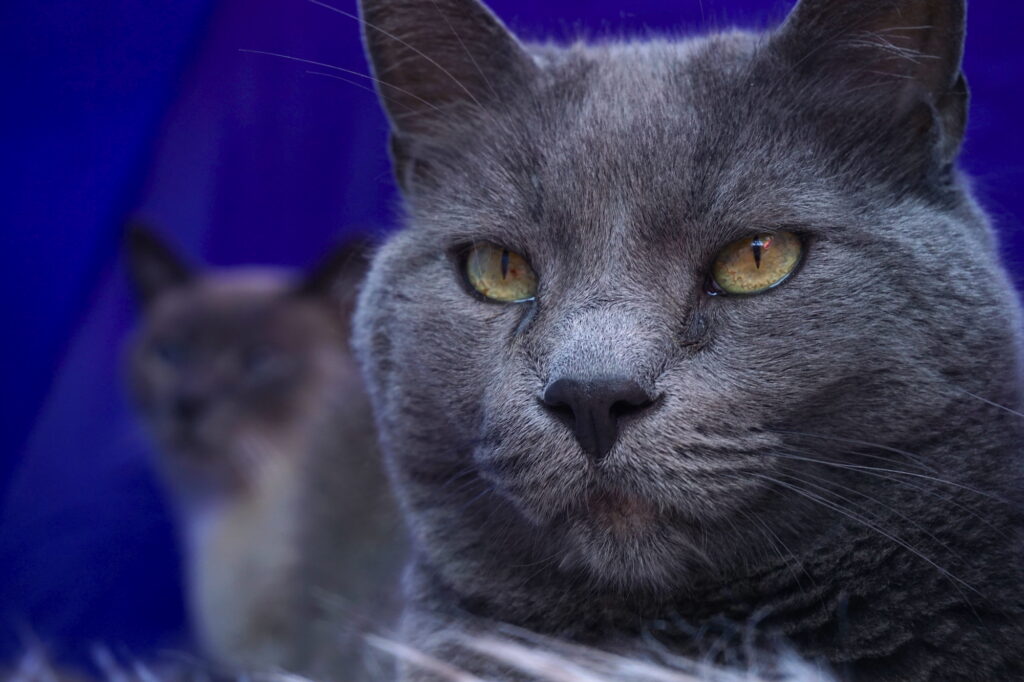 Yogi Otto: Is a beautiful Russian Blue. He is the bad boy of Furball Fables. He is wild, charming, handsome, vocal and thinks he owns the world and is in charge of everything! He has dog like tendencies, like plays catch and fetch, sleeps at the end of the bed and follows the human around like a puppy. He is always in motion. His favorite past times are playing fetch, playing with straws and twist ties, picking on Elfin, patrolling the house and surfing the web for cute girl cats. He has several girlfriend, but his favorite is Princess Priyaa from Facebook. He is one of the 3 brothers (Merlin and Elfin's litter mate) Nick names – the Yogster, yogisoius, bad boy, Mr. No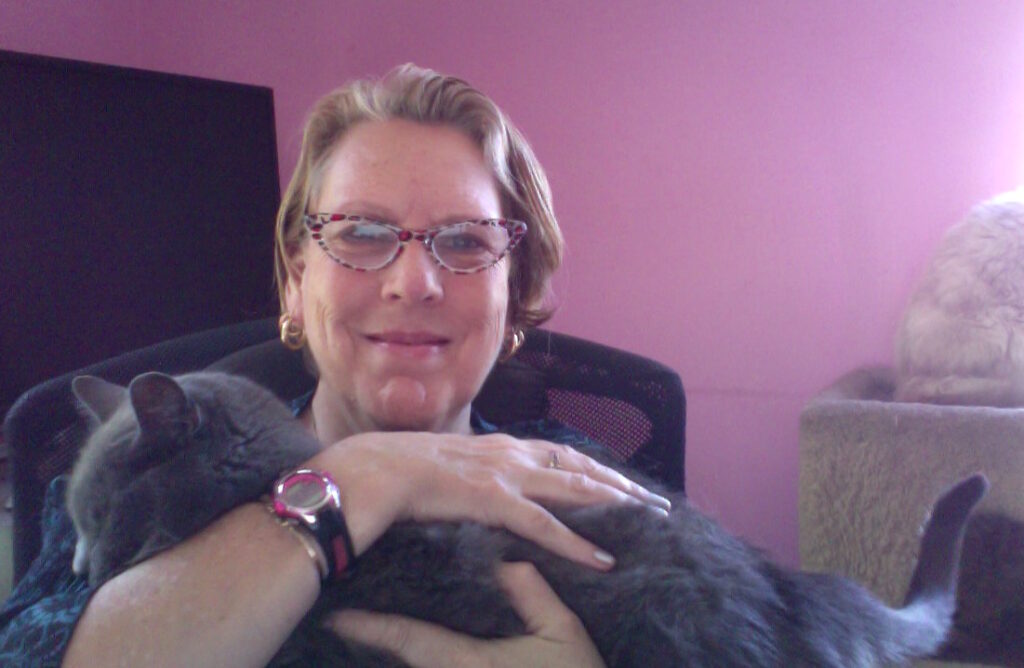 Chase Holiday
Human Chase lives at the beach in Los Angeles with the five Furballs. She makes her living freelancing as the neighborhood Cat Nanny and also does Social Media Content Creation. Chase has many interests and skills. As a musician in the punk rock scene in Los Angeles she was in many bands as a singer and songwriter and worked for the well known Golden Voice Productions. She starting making short video's with the Girl Scouts in 2005 soon after getting her first video camera. When Youtube began she started using the site at the beginning. In 2010 she launched Furball Fables and the rest is history!