Dear Team Buddha!
It's one week later after Buddha had a cancerous tumor removed in a successful 2 hour surgery on April 20th. We have turned a corner! Both Buddha and I, the human Chase!
I am not going to fool anyone, I have been beyond exhausted. The last month and a half of stress and tears certainly took its toll on me. But I have had lots of sleep now, so let me catch everyone up.
Buddha spent the night in the hospital after the surgery. When I called early the next morning they told me he was eating and could come home later in the day. I talked to his surgeon a little while later and he told me he felt really good about the surgery. He said he knew a lot of people were praying for Buddha so maybe that helped! The fact that he was eating was the best sign since the surgery was on his face next to his mouth.
I got everything ready for Buddha's homecoming! I had a large tent made for cats that I bought in case we ever had to evaluate in an emergency. We live in an area that is prone to brush fires. I set up the tent in the living room. I put lots of soft cozy blankets inside, along with a litter box and water bowl. I covered the tent also so it could be dark and he could rest.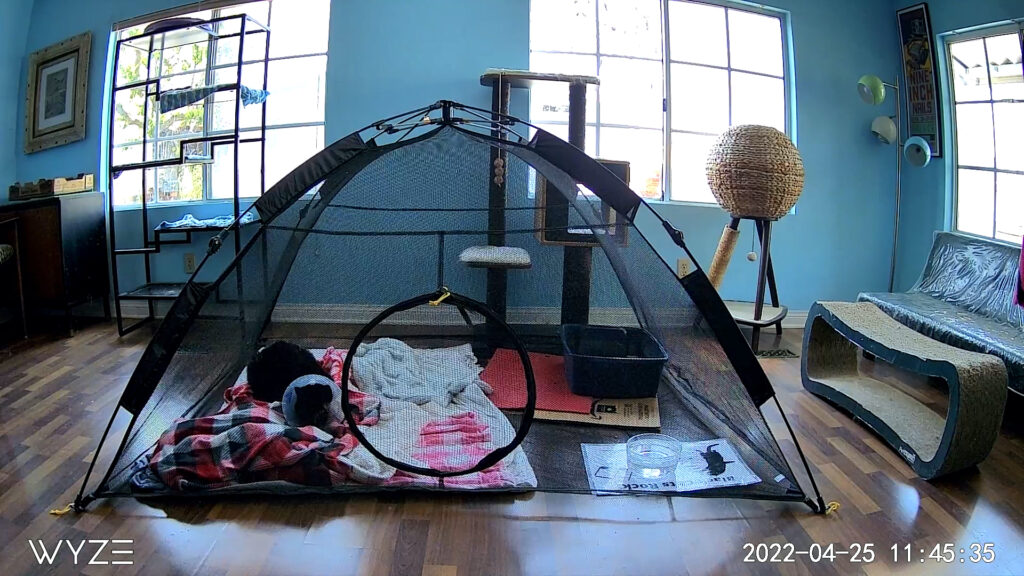 I wanted things to be stress free for the other Furballs. I didn't want to lock Buddha in the bedroom or bathroom but instead keep the house open as always.
I brought Buddha home in his new carrier. It's on wheels and it's roomy. Buddha is a large cat at 17 pounds. The new carrier was so helpful for me!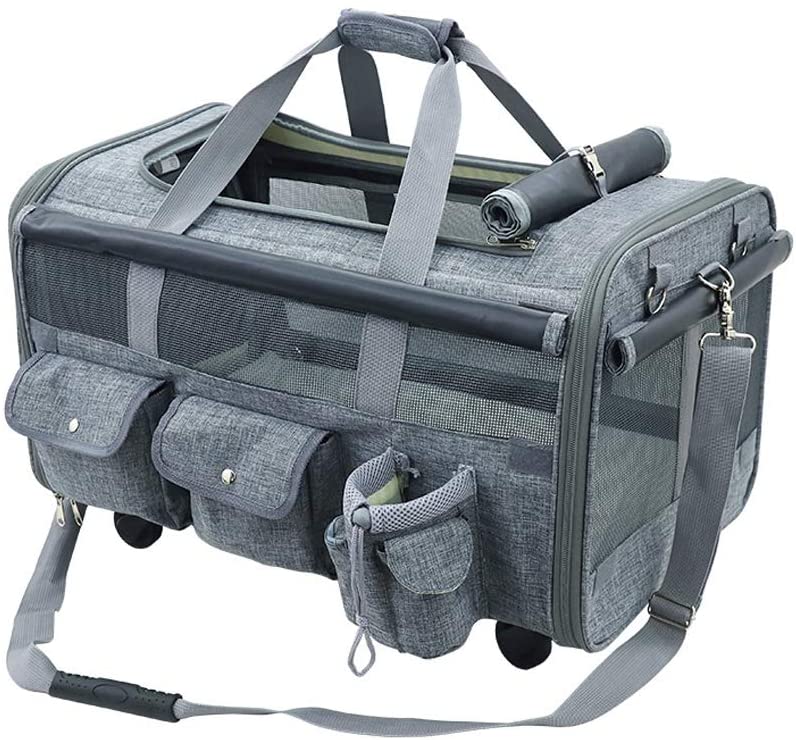 I put Buddha inside the tent and at first he was not happy. But I sat down next to him and he calmed down right away. He found all the cozy blankets next and didn't complain again. The other Furballs all came to say hello. I put a WZYE camera across from the recovery tent. I could now watch Buddha 24/7 from anywhere!
Over the next week Buddha was such a good boy! He stayed quiet and rested. He also was eating 3 times a day and having pain meds. And many times a day he got pets and massages!
I tried to spend as much time with Buddha as I could. I brought in a big thick blanket so I could lie down next to him and read. I also put down boxes with blankets next to the tent so the Furballs could also visit and hang out with Buddha. I was so touched to see them with him. I also felt super happy that they too were on nurse duty so Buddha wasn't alone.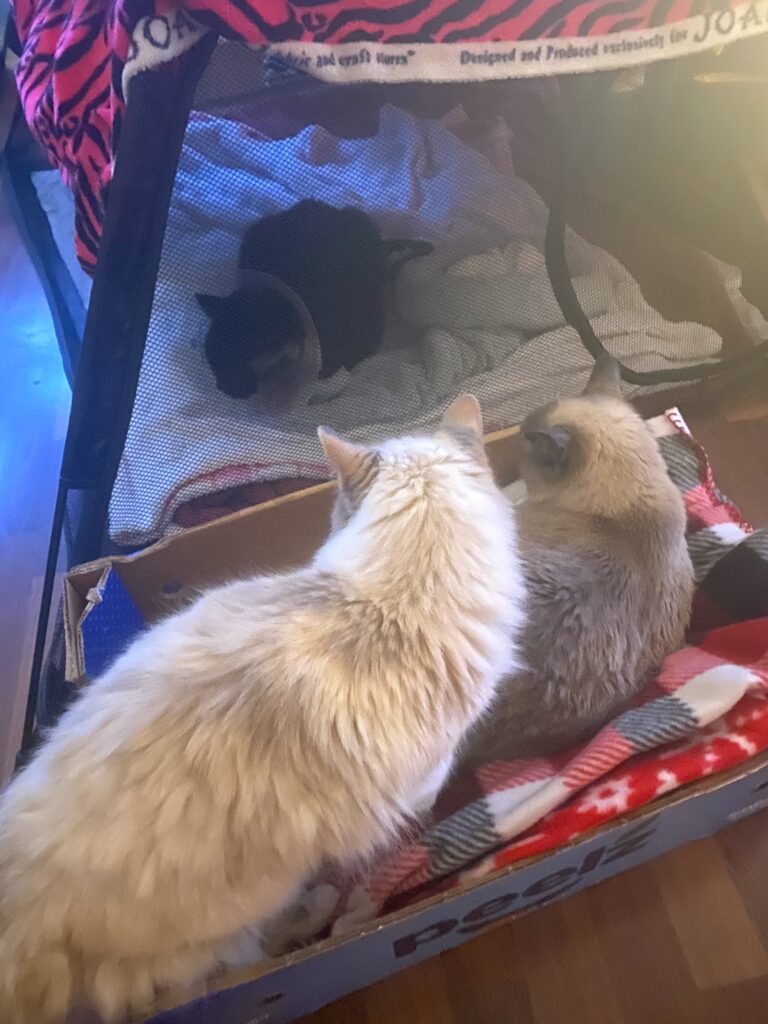 Yesterday I put Buddha in his carrier and took him to the bedroom where we spent the afternoon together! Today he has spent the whole day in the bedroom and it's a joy to see him so excited and discovering the fresh air and that he can have as many pets and hugs as he wants. His spirits are really good and he seems happy!
Surgeon update – The surgeon called us today to check on Buddha. He had the biopsy results back. He said he got all of the cancer with a very tight margin. This was very good news! Buddha will go back on May the 4th to have his stitches removed. (May The 4th Be With You!)
It will be very important to follow up with radiation in a few weeks time after his stitches are removed. I am in contact with the Cancer Veterinary Group to figure out the next steps and what the cost will actually be.
Together TeamBuddha made 106 donations to GoFundMe in 16 days! The total as of today is $4000.00 minus fees. We also had over $700 in donations from friends and family via Paypal. And another $800 in sales from our Furball Fables Etsy Shop. The total cost of the surgery was $4,809 plus $450 for the chest x-ray and lymph gland testing and antibiotic shots. This includes having his stitches removed next week.
What's next? I am going to harness train Buddha so that it will be easier to take him to the radiology appointments. That will be interesting! After talking to several of our adventure cat friends I got him a Rabbitgoo harness. We also had someone from our neighborhood donate a pet stroller to us last night! Man this cat is going to be styling and spoiled! And I am so happy to do so!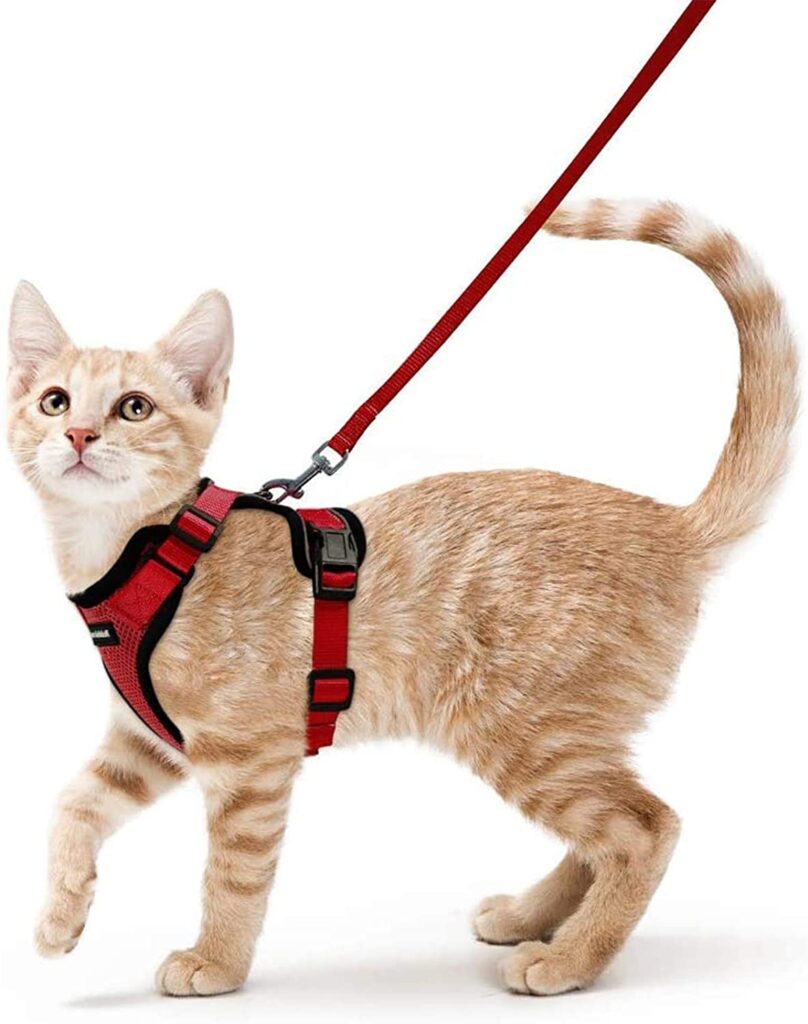 Right now Buddha looks a little like a cross between a cool punk rocker with a bit of frankenstein. He is in a cone of shame but he doesn't seem to mind it much. I am so happy that ulgy tumor is gone! WooHoo. I am sure Buddha is too!
In my wildest dreams I never imagined myself going through an experience like this. I have indeed come out the other side a stronger human. I didn't know what to expect and I was a mess! But you all were with me and held me up and surrounded us with prayers and so much love. How could I ever thank you enough for that. Your kindness and generosity saved my beloved black cat. The messages and comments you sent helped me so much through this incredible situation. I sent prayers and blessings back to each and everyone of you. Thank you so much for all you have done for us. Much Love Chase and Buddha
I will be posting more updates to our social media accounts on YouTube, Facebook and Instagram.
Here is our YouTube video of the past week! https://youtu.be/PGz1MXb6z1U
Furball Fables
http://www.youtube.com/Furballfables
Facebook – https://www.facebook.com/furballfables
Instagram – https://instagram.com/furballfables
Etsy – https://www.etsy.com/shop/FurballFables