My cat Buddha has cancer. I am not sure if he will survive this cancer. His 12th birthday was coming up on St. Patrick's day and I realized it could be his last birthday. So I started stressing over what to do for his special day. I don't usually make a big deal out of the Furball's birthdays. They are all senior cats now. But Buddha's birthday was different. I knew I needed to do something big.
PS The Video link of Buddha's B-Day will be at the end of this blog! Watch it!!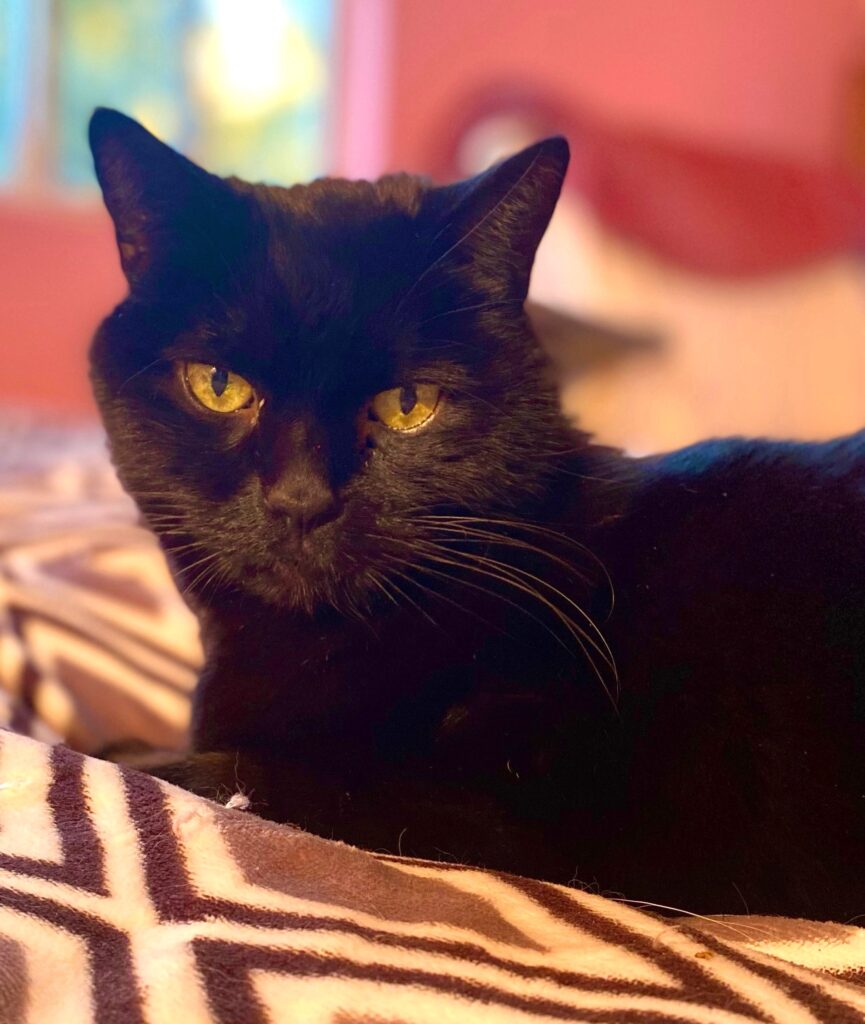 There were all the usual things you might get a cat for his birthday. He could get treats, new toys, catnip, a new bed and of course lots of snuggles and pets but none of that seemed like the thing to do.
I also wanted to give people a way to donate to his medical costs because so many people had asked me how they could donate. I had decided not to do a Go-Fund until we saw the radiologist in March because I simply did not know if I could save Buddha.
We saw a surgeon in February and he told me the surgery would be $5000 and Buddha would need major reconstruction surgery. But because Buddha's cancer had returned after having a tumor removed in June, the surgeon would not even consider the surgery without radiation. Radiation is estimated at $4000-$10,000. It was recommended that I do the radiation and stop the growth of the cancer.
Since I mostly make money from being a cat sitter and that wasn't going too well because of the pandemic, I had to find a way to raise money. I decided to load up our mew Etsy Shop. I figured if people wanted to help they could buy things from our shop. They could also donate to Paypal.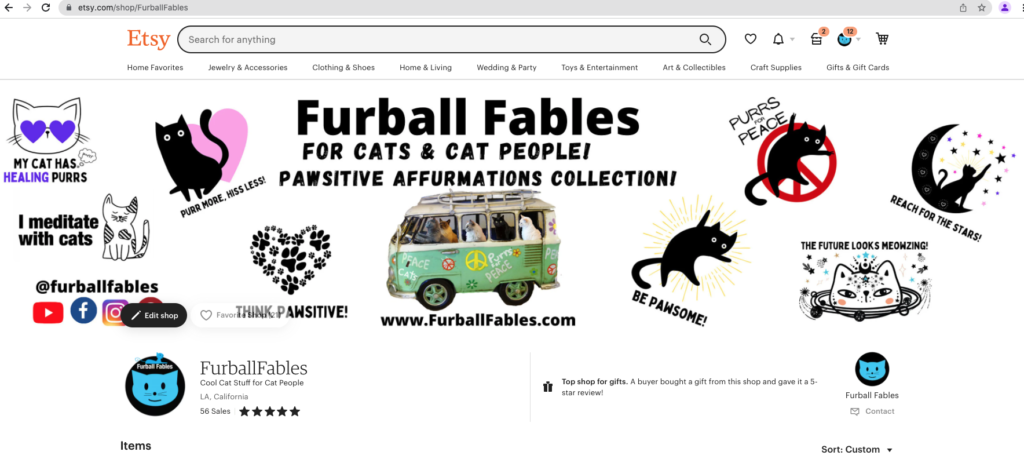 YouTube – I had not told our major audience on YouTube what was going on. I simply abandoned YouTube because It was so painful to make videos there when I had sick cats. No Christmas videos or Mew Years, a first in the 11 years we have been on YouTube. I knew I needed to do a channel update there.
So I was in a real, what comes first, the chicken or the egg situation! There were a lot of things I needed to get done, all by St. Patrick's Day.
I started on the YouTube Update first. That would be the hardest. So many long time friends on that channel. They deserved to know what was going on. I had announced Buddha's cancer in February on Facebook and Instagram but not YouTube. I knew it would be an emotional Roller Coaster Ride as soon as I told everyone.
I was lying on my bed the night before that video was going live and then it dawned on me! I knew what to get Buddha for his birthday! It wouldn't cost anything and it would be so great! I needed to get him as many best wishes from as many people as possible! They could send love, prayers and healing purrs! And so that was what I set out to do!
The YouTube video went live in the afternoon on Sunday March 13th. And yes it was intense as I thought it would be. Next I put up the post "Send Buddha your Best Birthday Wishes" post on both Instagram and Facebook.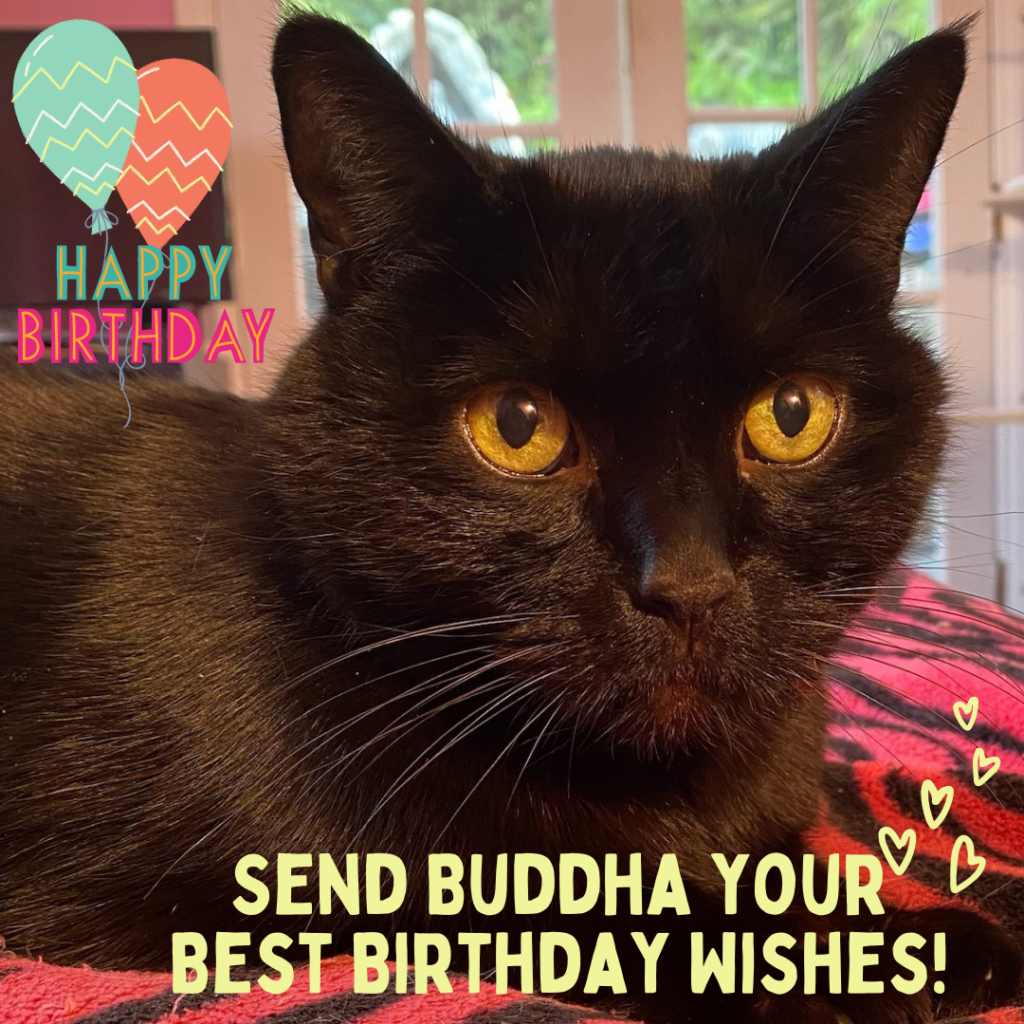 And BAM! Our week long celebration started! It was a relief to post finally on YouTube. Catching up with all our friends there was bittersweet. Great to say hi but hard because of Buddha. I gave an update on the other Furballs and tried to keep that more upbeat.
The messages started pouring in! It was so wonderful! I wanted to reply to every comment I could which turned out to be a lot!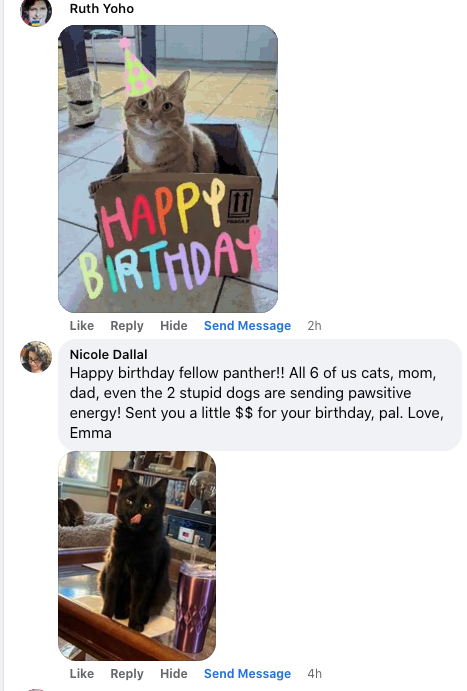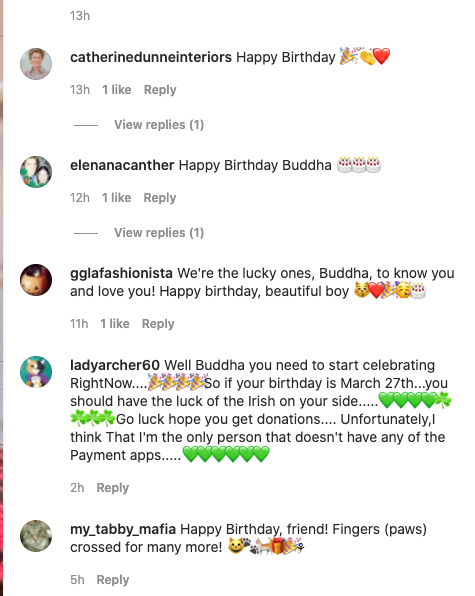 Also I had to start sending his birthday wish post to as many friends I could think of who would share the post. My main job was to get as many Birthday Wishes for Buddha as I could.
Monday morning I saw that friends from Youtube were making donations. Our Etsy shop was also getting orders. I was really touched by this. I didn't know some of these people and the fact that Buddha's story had touched them was so amazing for me.
By Wednesday, the day before his birthday things were really picking up. Many people told me what they hoped he would get for his birthday. Cat toys, treats, snuggles, catnip and so on. I had been in a pickle about what else I should get him. Then it occurred to me that what Buddha loved most was Cat Grass. So I spent Wednesday morning going to plant shops looking for cat grass for him. I got an assortment of cat safe plants. I was so lucky to have scored some fresh catnip too! I then spent time in the afternoon cleaning our catio and turning the soil on one of the planters. I had to lock the furballs inside. Merlin had already run off with one of the presents.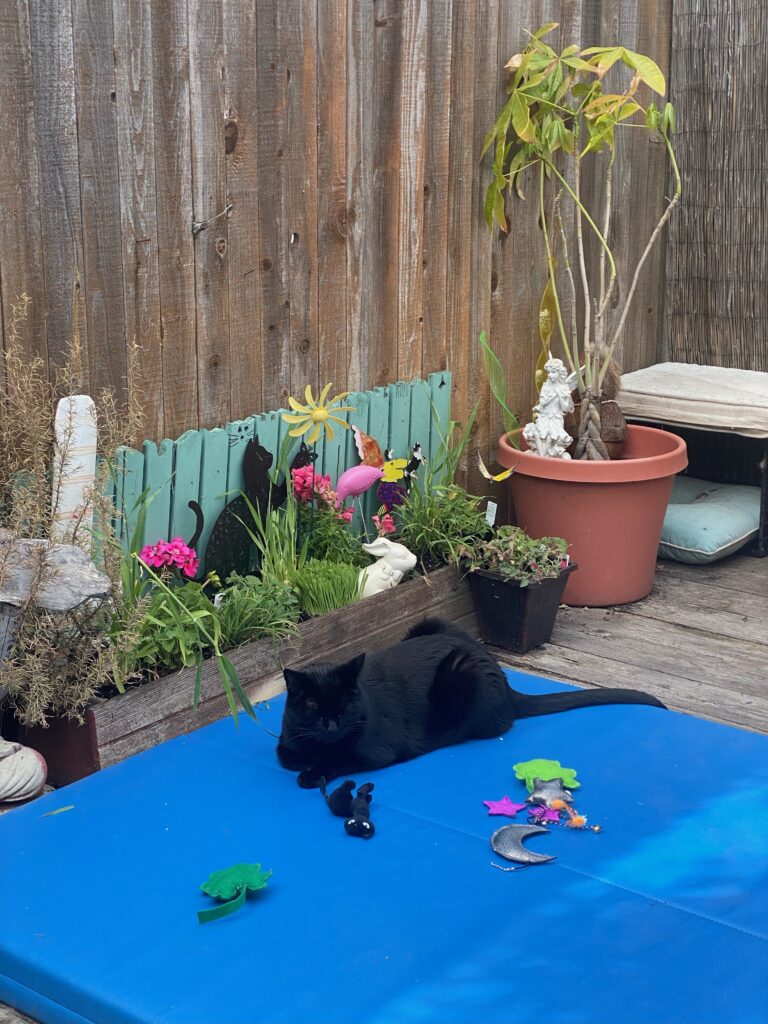 As Wednesday progressed more and more birthday wishes were coming in. I tried to reply and thank everyone, but it became harder and harder to keep up.
Layla from Catwisdom 101 dedicated her blog post for St. Patrick's Day. Buddha's story was featured in Layla's book, Black Cats Tell All.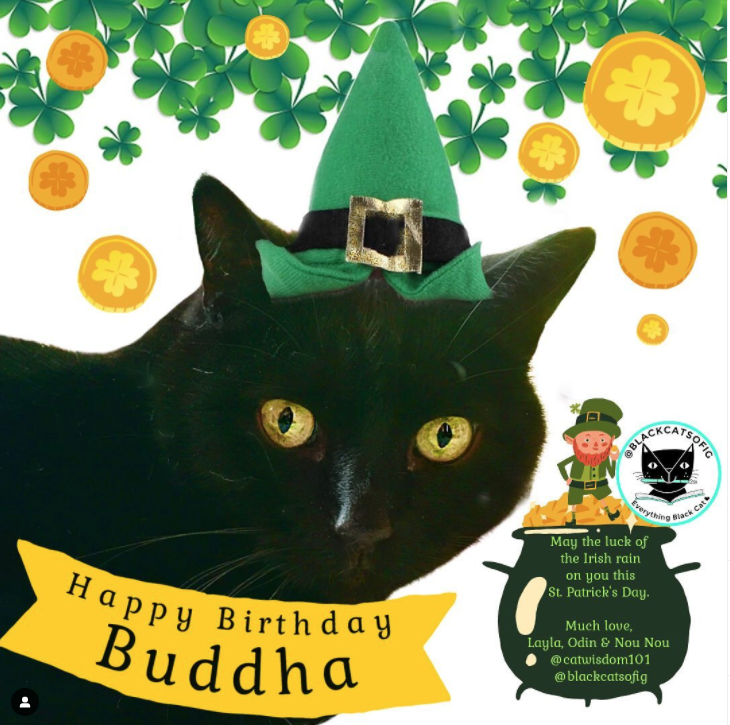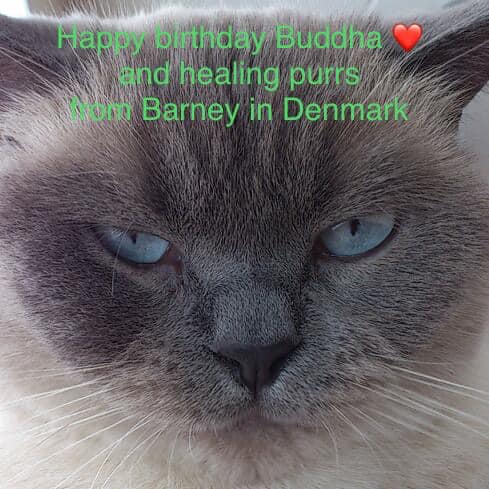 We got all sorts of video messages. We got a video of Buddha's brothers saying Happy Birthday, messages from Chris Poole of Cole and Marmalade. Our friends Miss Kitty Glitter gave wishes and Donavan the cat sang Happy Birthday and Topanga Cat, dressed for St. Patrick's Day sent greetings.
I had posts on all of our social accounts, but instagram was where the real party was apparently. The feline community there went all out for Buddha's birthday. Nikki from Catlady Academy and Manny the Halloween Cat started the party. Next Cats of Instagram shared Buddha's birthday message. Black Cat Crew, Black Cats of IG, Feline Yogi, Hello Kitties, and many more all shared posts on Buddha. By Thursday morning, Buddha's birthday messages were coming in every few minutes. WOW!!!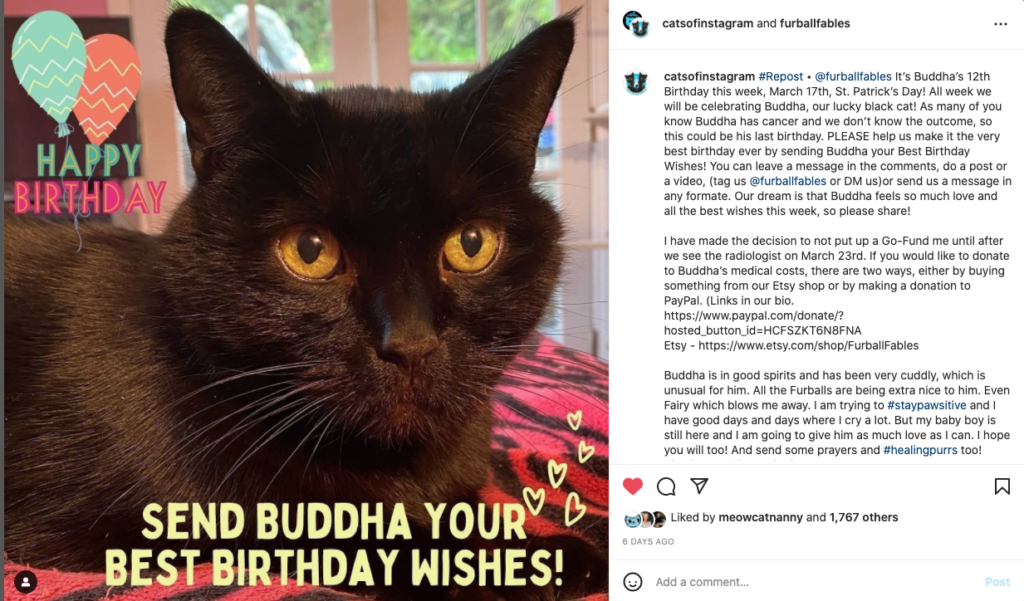 To say I was BLOWN AWAY would be an understatement. I was in a constant state of happy tears! Buddha got such beautiful, pawsitive, uplifting, heartfelt wishes from so many people and cats too! It was truly inspiring and so touching!
Thursday morning I had to finish planting Buddha's cat grass garden again keeping the furballs inside. I took a break to take Merlin to see his vet to have his ear checked. When we got back it was time for the party!
I opened the catio doors and sat down outside. Buddha, Merlin and Fairy came right out. Buddha got right to work nibbling some cat grass.I had found 6 different kinds. He would peek over at me with such joy and that made me so happy! We all stayed outside for a long time. It was such a peaceful moment for all of us.
Now I have to end this by first thanking everyone for making this the very best birthday Buddha has ever had! It was so beyond anything I wished for him. I could see that Buddha felt all the love by the way. He was quite active and did a lot of talking!
My purrsonal feeling is that because cats are so super sensitive, Buddha knew about all those birthday wishes and could feel the love, prayers and healing purrs being sent to him. I have to be honest and tell you I sure did. I felt kind of lifted up like in a cloud of bliss. It was overwhelming, emotional, happy and beautiful. I always say "Wish Big" when it's someone's birthday and I wished big for Buddha's birthday and it came true way beyond my wildest dreams! So purrfect for my beautiful lucky black cat! Happy Birthday Baby.
Watch Buddha's Birthday Celebration here!
https://www.instagram.com/reel/CbTaxk6seQh/?utm_source=ig_web_copy_link
https://www.etsy.com/shop/FurballFables
https://www.paypal.com/donate/?hosted_button_id=HCFSZKT6N8FNA