I knew I needed to replace our disgusting Cat Tower in the bedroom. It was so gross. I won it at a Petco in a give away when the Furballs were just babies. I was so excited! The Furballs of course loved it! They liked to run at full speed and climb up the top and playfight. But now more than 13 years later the thing needed to go. Unfortunately I don't have the skills to repurpose it. There were several factors I needed to consider when replacing this tower.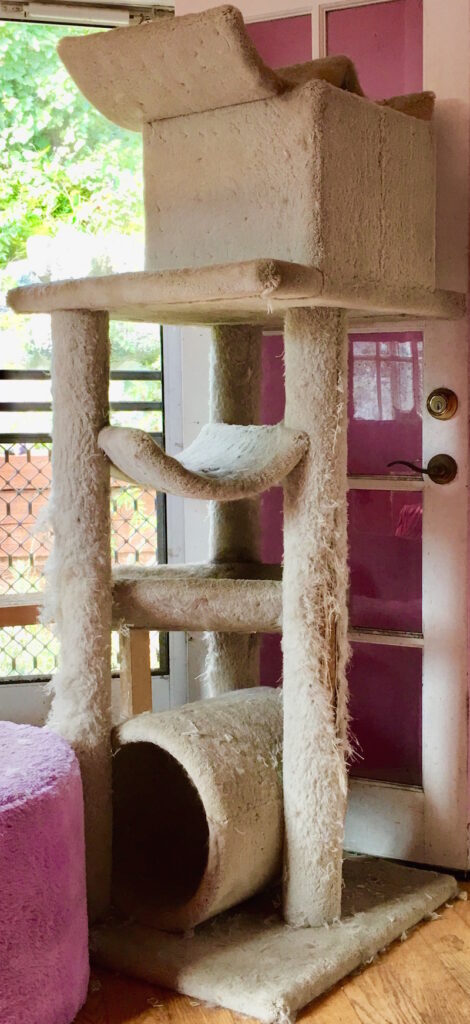 Size – It needed to fit in the space by our back door and it had to be large enough for the furballs to sleep on.
You'd be surprised how many of these towers are too small or flimsy. They look all nice in the pictures but then you get them and they are poorly made and the cat's butts are hanging over the edge.
Sturdy – I also wanted it to be very sturdy. The Furballs are large cats. Buddha is about 17 pounds and all muscle, no fat. Yogi, Merlin and Elfin are all between 10-14 pounds. I wanted them to be able to sleep on the tower. It had to be a stand alone unit too so I could move it around. In the winter I need to be able to close the back door. I measured a few other towers we had so I knew what sizes to look for.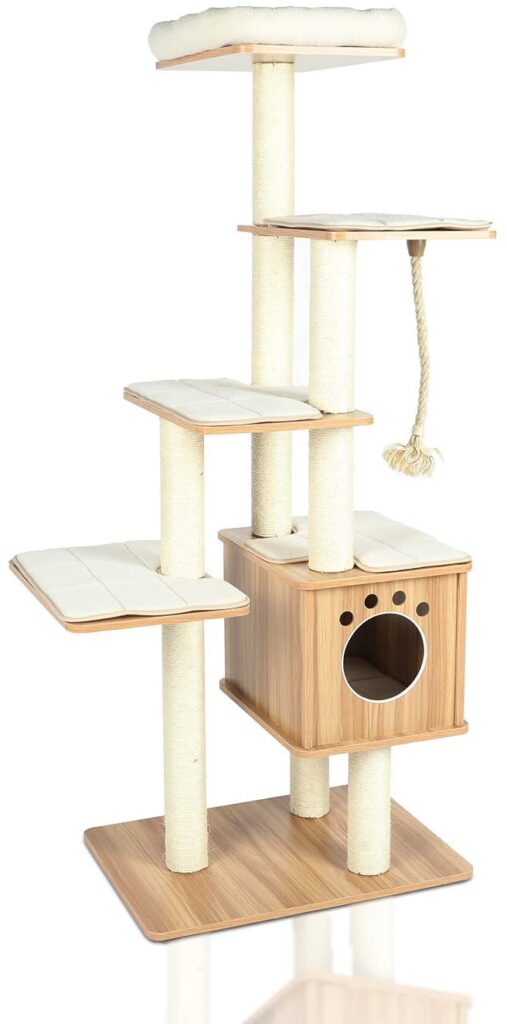 Cleanable – Just say No to carpet! This time around I didn't want carpet. This was because of a number of issues for me such as allergies, shredded carpet mess and the look of the carpet as it ages, and cat pee and barf on the tower. It's just a fact of life that the cats will pee and barf on it and I wanted to be able to clean it.
Modern Design – Hauspanther has it right! Why can't cats and humans have stylish things around the house that are made for felines. This new tower needed to look nice with a cool simple design.
Price – I had to save for this, so price was a big concern. There were other towers I loved but they were way out of my price range.
Easy to put together – My skill set for putting things together are not all that great. However my friend Terry was going to help me so I was covered! Yah!
Great reviews – I read all the reviews on Amazon and asked a few questions. The tower was highly recommended. There were a few things that were mentioned but overall it had a high rating. I also looked at all the pictures other cat people had posted.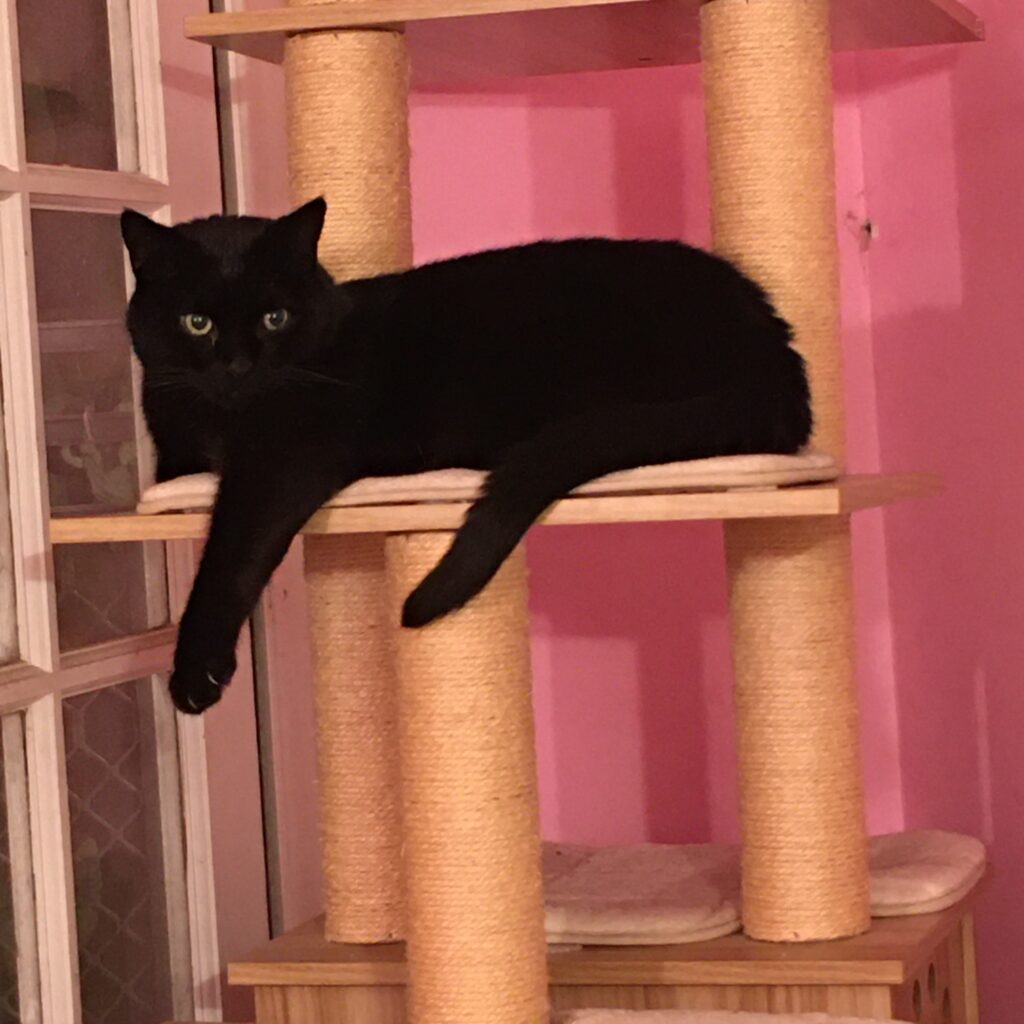 So why did I settle on the Lazy Buddy? I looked and looked for months at different options. I don't make these decisions quickly. Plus I enjoy looking. When I found the Lazy Buddy I was able to check all my boxes! It was the right size, it was sturdy, it was cleanable, it was a great price, it would fit in the corner by our back door. I had a great modern look and lastly my friend Terry was going to help me put it together!
Since we bought this tower, Lazy Buddy has added a few other towers too. I highly recommend it! And just recently I saw that Hanna Shaw, The Kitten Lady has one just like ours!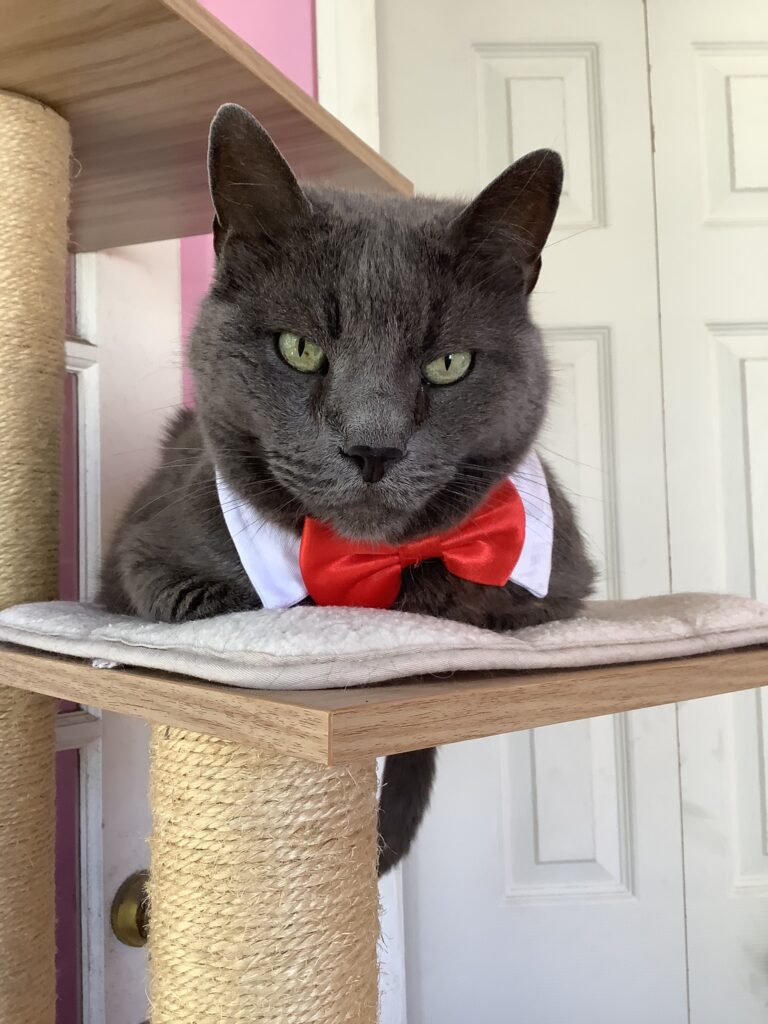 They have a few different models.
54″ for $159.99 – https://amzn.to/3biHxKw
67″ for 149.99 – https://amzn.to/3hkjhLZ
54′ for $101. https://amzn.to/3tFOYSg (looks better for smaller cats)
68″ for $173.99 https://amzn.to/3uHaZ4r
This post has affiliate links which if you use and buy something we make a few pennies! (LOL!)