I decided to grow some cat grass for the Furballs after I saw this adorable kit made by The Cat Ladies on Amazon. They are a mother – daughter family run business, inspired by their own animals. They sell all sorts of Cat Grass kits but I couldn't resist this adorable black cat so I bought it!
The directions were simple enough. Even I could do this. In addition to the kit, I bought extra soil and seeds too. The Furballs love cat grass so why not grow a bunch!
Their grass contains a blend of organic wheat, oats, rye, flax and barley seeds, which are an important source of vitamins A, B, C, E and K, essential minerals and nutrients like calcium, chlorophyll, iron, lecithin, magnesium and pantothenic Acid. Cat grass also aids in digestion and relieves upset tummy, helps prevent hairballs and acts as a hairball remedy.
I set up an area in the kitchen to test out my little growing project. The Furballs watched me as I set up everything, hoping of course that I might provide some snacks. I set up my iphone too so I could document the whole process.
The kit comes with the cute black cat cup. (The cup comes in white too.) It also includes seeds, soil, directions, and a discount card if you want to purchase some more of their products.
It was easy enough to set up. I was pleasantly surprised when I added water to the soil and it quickly expanded like magic. The process was pretty much as described in the directions. It took about 6 days to grow. My cat Merlin seemed to know when it was ready. He was the first to give it a nibble. The grass was a big hit with all of the Furballs. It was so easy to grow the grass and that's fantastic mews! Now we can have cat grass whenever we want or at least 5-6 days later. Available on their website, Amazon and Chewy.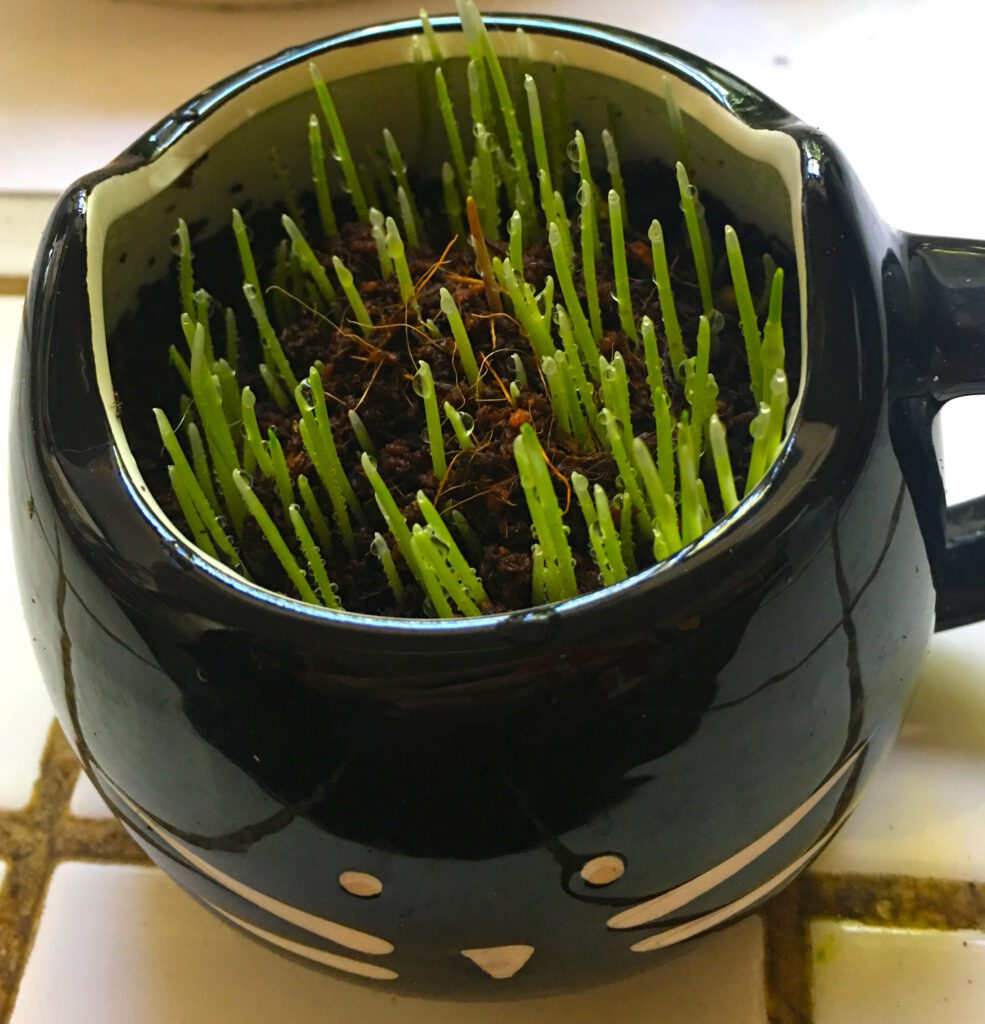 Here's their website https://thecatladies.com. The prices are less than Amazon but there is a shipping cost. Their Amazon store has some more of their products not listed yet on their website.
This is the kit we bought on Amazon. 
Cat Grass Growing Kit Black Cat $19.95 https://amzn.to/33Zjjkq
Cat Grass Growing Kit White Cat $19.95 https://amzn.to/2T2vESF
Extra soil $8.97- https://amzn.to/2Sajsiu
Organic Seeds $9.95 – https://amzn.to/3fxdcZX
https://thecatladies.com
The post was not sponsored and the Amazon links are affiliate links where we may make a few pennies if you use those links.